Hi all,
I'm trying to run the latest version of ORS at completely default settings.
I've simply downloaded the latest openrouteservice-master.zip, extracted it, and then run docker compose up.
However, no matter what I do I'm running into this error…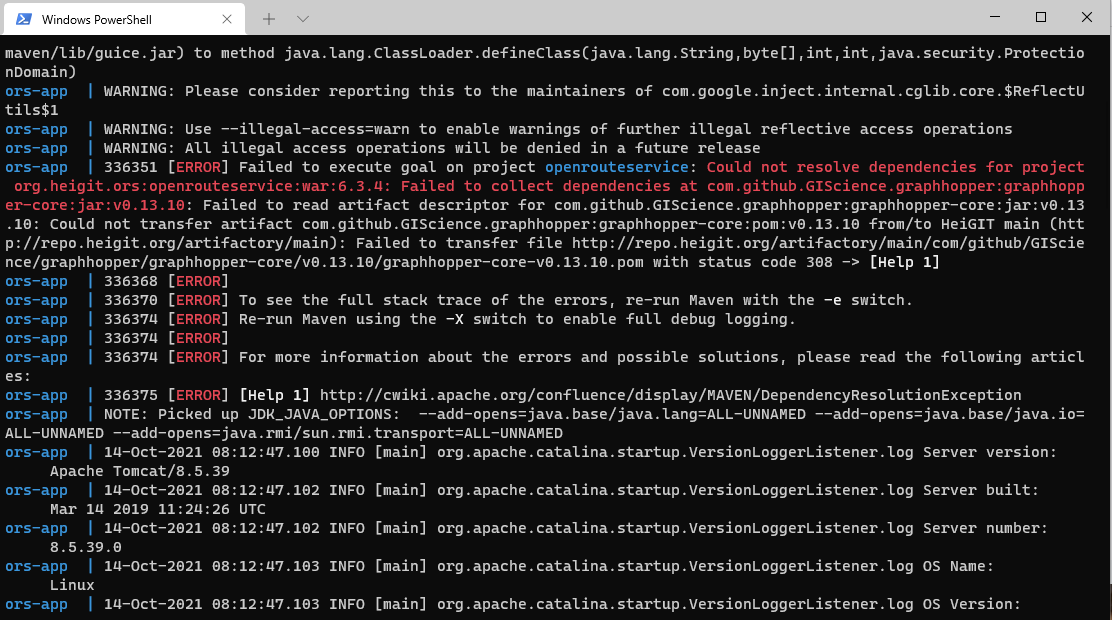 Full console log is below…
I looked on the Github issues and it looks like there's some recent http to https changes, could this be another one of those issues which needs fixing?
Cheers,
Troy
[+] Running 2/2
 - Network "docker_default"  Created                                                                               2.2s
 - Container ors-app         Created                                                                              13.3s
Attaching to ors-app
ors-app  | ### Package openrouteservice and deploy to Tomcat ###
ors-app  | WARNING: An illegal reflective access operation has occurred
ors-app  | WARNING: Illegal reflective access by com.google.inject.internal.cglib.core.$ReflectUtils$1 (file:/usr/share/maven/lib/guice.jar) to method java.lang.ClassLoader.defineClass(java.lang.String,byte[],int,int,java.security.ProtectionDomain)
ors-app  | WARNING: Please consider reporting this to the maintainers of com.google.inject.internal.cglib.core.$ReflectUtils$1
ors-app  | WARNING: Use --illegal-access=warn to enable warnings of further illegal reflective access operations
ors-app  | WARNING: All illegal access operations will be denied in a future release
ors-app  | 336351 [ERROR] Failed to execute goal on project openrouteservice: Could not resolve dependencies for project org.heigit.ors:openrouteservice:war:6.3.4: Failed to collect dependencies at com.github.GIScience.graphhopper:graphhopper-core:jar:v0.13.10: Failed to read artifact descriptor for com.github.GIScience.graphhopper:graphhopper-core:jar:v0.13.10: Could not transfer artifact com.github.GIScience.graphhopper:graphhopper-core:pom:v0.13.10 from/to HeiGIT main (http://repo.heigit.org/artifactory/main): Failed to transfer file http://repo.heigit.org/artifactory/main/com/github/GIScience/graphhopper/graphhopper-core/v0.13.10/graphhopper-core-v0.13.10.pom with status code 308 -> [Help 1]
ors-app  | 336368 [ERROR]
ors-app  | 336370 [ERROR] To see the full stack trace of the errors, re-run Maven with the -e switch.
ors-app  | 336374 [ERROR] Re-run Maven using the -X switch to enable full debug logging.
ors-app  | 336374 [ERROR]
ors-app  | 336374 [ERROR] For more information about the errors and possible solutions, please read the following articles:
ors-app  | 336375 [ERROR] [Help 1] http://cwiki.apache.org/confluence/display/MAVEN/DependencyResolutionException
ors-app  | NOTE: Picked up JDK_JAVA_OPTIONS:  --add-opens=java.base/java.lang=ALL-UNNAMED --add-opens=java.base/java.io=ALL-UNNAMED --add-opens=java.rmi/sun.rmi.transport=ALL-UNNAMED
ors-app  | 14-Oct-2021 08:12:47.100 INFO [main] org.apache.catalina.startup.VersionLoggerListener.log Server version:        Apache Tomcat/8.5.39
ors-app  | 14-Oct-2021 08:12:47.102 INFO [main] org.apache.catalina.startup.VersionLoggerListener.log Server built:          Mar 14 2019 11:24:26 UTC
ors-app  | 14-Oct-2021 08:12:47.102 INFO [main] org.apache.catalina.startup.VersionLoggerListener.log Server number:         8.5.39.0
ors-app  | 14-Oct-2021 08:12:47.103 INFO [main] org.apache.catalina.startup.VersionLoggerListener.log OS Name:
     Linux
ors-app  | 14-Oct-2021 08:12:47.103 INFO [main] org.apache.catalina.startup.VersionLoggerListener.log OS Version:            5.10.25-linuxkit
ors-app  | 14-Oct-2021 08:12:47.104 INFO [main] org.apache.catalina.startup.VersionLoggerListener.log Architecture:          amd64
ors-app  | 14-Oct-2021 08:12:47.105 INFO [main] org.apache.catalina.startup.VersionLoggerListener.log Java Home:             /usr/local/openjdk-11
ors-app  | 14-Oct-2021 08:12:47.108 INFO [main] org.apache.catalina.startup.VersionLoggerListener.log JVM Version:           11.0.10+9
ors-app  | 14-Oct-2021 08:12:47.109 INFO [main] org.apache.catalina.startup.VersionLoggerListener.log JVM Vendor:            Oracle Corporation
ors-app  | 14-Oct-2021 08:12:47.111 INFO [main] org.apache.catalina.startup.VersionLoggerListener.log CATALINA_BASE:         /usr/local/tomcat
ors-app  | 14-Oct-2021 08:12:47.112 INFO [main] org.apache.catalina.startup.VersionLoggerListener.log CATALINA_HOME:         /usr/local/tomcat
ors-app  | 14-Oct-2021 08:12:47.114 INFO [main] org.apache.catalina.startup.VersionLoggerListener.log Command line argument: --add-opens=java.base/java.lang=ALL-UNNAMED
ors-app  | 14-Oct-2021 08:12:47.115 INFO [main] org.apache.catalina.startup.VersionLoggerListener.log Command line argument: --add-opens=java.base/java.io=ALL-UNNAMED
ors-app  | 14-Oct-2021 08:12:47.118 INFO [main] org.apache.catalina.startup.VersionLoggerListener.log Command line argument: --add-opens=java.rmi/sun.rmi.transport=ALL-UNNAMED
ors-app  | 14-Oct-2021 08:12:47.119 INFO [main] org.apache.catalina.startup.VersionLoggerListener.log Command line argument: -Djava.util.logging.config.file=/usr/local/tomcat/conf/logging.properties
ors-app  | 14-Oct-2021 08:12:47.120 INFO [main] org.apache.catalina.startup.VersionLoggerListener.log Command line argument: -Djava.util.logging.manager=org.apache.juli.ClassLoaderLogManager
ors-app  | 14-Oct-2021 08:12:47.122 INFO [main] org.apache.catalina.startup.VersionLoggerListener.log Command line argument: -Djava.awt.headless=true
ors-app  | 14-Oct-2021 08:12:47.122 INFO [main] org.apache.catalina.startup.VersionLoggerListener.log Command line argument: -XX:TargetSurvivorRatio=75
ors-app  | 14-Oct-2021 08:12:47.125 INFO [main] org.apache.catalina.startup.VersionLoggerListener.log Command line argument: -XX:SurvivorRatio=64
ors-app  | 14-Oct-2021 08:12:47.127 INFO [main] org.apache.catalina.startup.VersionLoggerListener.log Command line argument: -XX:MaxTenuringThreshold=3
ors-app  | 14-Oct-2021 08:12:47.127 INFO [main] org.apache.catalina.startup.VersionLoggerListener.log Command line argument: -XX:+UseG1GC
ors-app  | 14-Oct-2021 08:12:47.129 INFO [main] org.apache.catalina.startup.VersionLoggerListener.log Command line argument: -XX:+ScavengeBeforeFullGC
ors-app  | 14-Oct-2021 08:12:47.130 INFO [main] org.apache.catalina.startup.VersionLoggerListener.log Command line argument: -XX:ParallelGCThreads=4
ors-app  | 14-Oct-2021 08:12:47.131 INFO [main] org.apache.catalina.startup.VersionLoggerListener.log Command line argument: -Xms1g
ors-app  | 14-Oct-2021 08:12:47.132 INFO [main] org.apache.catalina.startup.VersionLoggerListener.log Command line argument: -Xmx2g
ors-app  | 14-Oct-2021 08:12:47.133 INFO [main] org.apache.catalina.startup.VersionLoggerListener.log Command line argument: -Djdk.tls.ephemeralDHKeySize=2048
ors-app  | 14-Oct-2021 08:12:47.134 INFO [main] org.apache.catalina.startup.VersionLoggerListener.log Command line argument: -Djava.protocol.handler.pkgs=org.apache.catalina.webresources
ors-app  | 14-Oct-2021 08:12:47.134 INFO [main] org.apache.catalina.startup.VersionLoggerListener.log Command line argument: -Dorg.apache.catalina.security.SecurityListener.UMASK=0027
ors-app  | 14-Oct-2021 08:12:47.135 INFO [main] org.apache.catalina.startup.VersionLoggerListener.log Command line argument: -Dcom.sun.management.jmxremote
ors-app  | 14-Oct-2021 08:12:47.136 INFO [main] org.apache.catalina.startup.VersionLoggerListener.log Command line argument: -Dcom.sun.management.jmxremote.port=9001
ors-app  | 14-Oct-2021 08:12:47.137 INFO [main] org.apache.catalina.startup.VersionLoggerListener.log Command line argument: -Dcom.sun.management.jmxremote.rmi.port=9001
ors-app  | 14-Oct-2021 08:12:47.137 INFO [main] org.apache.catalina.startup.VersionLoggerListener.log Command line argument: -Dcom.sun.management.jmxremote.authenticate=false
ors-app  | 14-Oct-2021 08:12:47.138 INFO [main] org.apache.catalina.startup.VersionLoggerListener.log Command line argument: -Dcom.sun.management.jmxremote.ssl=false
ors-app  | 14-Oct-2021 08:12:47.140 INFO [main] org.apache.catalina.startup.VersionLoggerListener.log Command line argument: -Djava.rmi.server.hostname=localhost
ors-app  | 14-Oct-2021 08:12:47.141 INFO [main] org.apache.catalina.startup.VersionLoggerListener.log Command line argument: -Dignore.endorsed.dirs=
ors-app  | 14-Oct-2021 08:12:47.142 INFO [main] org.apache.catalina.startup.VersionLoggerListener.log Command line argument: -Dcatalina.base=/usr/local/tomcat
ors-app  | 14-Oct-2021 08:12:47.143 INFO [main] org.apache.catalina.startup.VersionLoggerListener.log Command line argument: -Dcatalina.home=/usr/local/tomcat
ors-app  | 14-Oct-2021 08:12:47.144 INFO [main] org.apache.catalina.startup.VersionLoggerListener.log Command line argument: -Djava.io.tmpdir=/usr/local/tomcat/temp
ors-app  | 14-Oct-2021 08:12:47.145 INFO [main] org.apache.catalina.core.AprLifecycleListener.lifecycleEvent The APR based Apache Tomcat Native library which allows optimal performance in production environments was not found on the java.library.path: [/usr/java/packages/lib:/usr/lib64:/lib64:/lib:/usr/lib]
ors-app  | 14-Oct-2021 08:12:47.180 INFO [main] org.apache.coyote.AbstractProtocol.init Initializing ProtocolHandler ["http-nio-8080"]
ors-app  | 14-Oct-2021 08:12:47.192 INFO [main] org.apache.tomcat.util.net.NioSelectorPool.getSharedSelector Using a shared selector for servlet write/read
ors-app  | 14-Oct-2021 08:12:47.210 INFO [main] org.apache.coyote.AbstractProtocol.init Initializing ProtocolHandler ["ajp-nio-8009"]
ors-app  | 14-Oct-2021 08:12:47.212 INFO [main] org.apache.tomcat.util.net.NioSelectorPool.getSharedSelector Using a shared selector for servlet write/read
ors-app  | 14-Oct-2021 08:12:47.213 INFO [main] org.apache.catalina.startup.Catalina.load Initialization processed in 406 ms
ors-app  | 14-Oct-2021 08:12:47.277 INFO [main] org.apache.catalina.core.StandardService.startInternal Starting service [Catalina]
ors-app  | 14-Oct-2021 08:12:47.278 INFO [main] org.apache.catalina.core.StandardEngine.startInternal Starting Servlet Engine: Apache Tomcat/8.5.39
ors-app  | 14-Oct-2021 08:12:47.309 INFO [localhost-startStop-1] org.apache.catalina.startup.HostConfig.deployDirectory Deploying web application directory [/usr/local/tomcat/webapps/manager]
ors-app  | 14-Oct-2021 08:12:47.597 INFO [localhost-startStop-1] org.apache.catalina.startup.HostConfig.deployDirectory Deployment of web application directory [/usr/local/tomcat/webapps/manager] has finished in [287] ms
ors-app  | 14-Oct-2021 08:12:47.598 INFO [localhost-startStop-1] org.apache.catalina.startup.HostConfig.deployDirectory Deploying web application directory [/usr/local/tomcat/webapps/host-manager]
ors-app  | 14-Oct-2021 08:12:47.626 INFO [localhost-startStop-1] org.apache.catalina.startup.HostConfig.deployDirectory Deployment of web application directory [/usr/local/tomcat/webapps/host-manager] has finished in [28] ms
ors-app  | 14-Oct-2021 08:12:47.628 INFO [localhost-startStop-1] org.apache.catalina.startup.HostConfig.deployDirectory Deploying web application directory [/usr/local/tomcat/webapps/examples]
ors-app  | 14-Oct-2021 08:12:47.930 INFO [localhost-startStop-1] org.apache.catalina.startup.HostConfig.deployDirectory Deployment of web application directory [/usr/local/tomcat/webapps/examples] has finished in [302] ms
ors-app  | 14-Oct-2021 08:12:47.930 INFO [localhost-startStop-1] org.apache.catalina.startup.HostConfig.deployDirectory Deploying web application directory [/usr/local/tomcat/webapps/ROOT]
ors-app  | 14-Oct-2021 08:12:47.963 INFO [localhost-startStop-1] org.apache.catalina.startup.HostConfig.deployDirectory Deployment of web application directory [/usr/local/tomcat/webapps/ROOT] has finished in [33] ms
ors-app  | 14-Oct-2021 08:12:47.965 INFO [localhost-startStop-1] org.apache.catalina.startup.HostConfig.deployDirectory Deploying web application directory [/usr/local/tomcat/webapps/docs]
ors-app  | 14-Oct-2021 08:12:48.003 INFO [localhost-startStop-1] org.apache.catalina.startup.HostConfig.deployDirectory Deployment of web application directory [/usr/local/tomcat/webapps/docs] has finished in [38] ms
ors-app  | 14-Oct-2021 08:12:48.013 INFO [main] org.apache.coyote.AbstractProtocol.start Starting ProtocolHandler ["http-nio-8080"]
ors-app  | 14-Oct-2021 08:12:48.047 INFO [main] org.apache.coyote.AbstractProtocol.start Starting ProtocolHandler ["ajp-nio-8009"]
ors-app  | 14-Oct-2021 08:12:48.064 INFO [main] org.apache.catalina.startup.Catalina.start Server startup in 850 ms