Hello,
Here is the unexpected direction. I'm wondering the reason for this result. Thank you for the amazing project!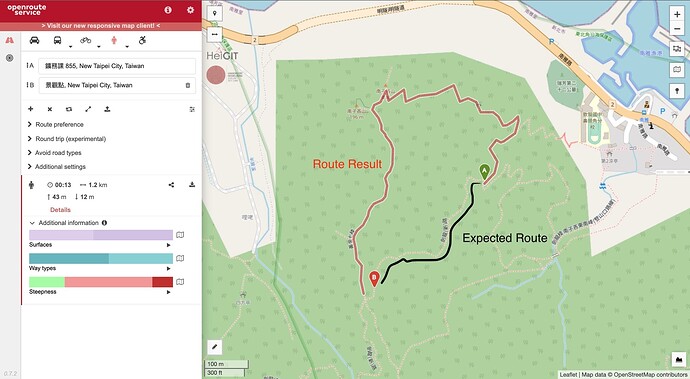 Hey,
the path of the expected route was only added 16 days ago.
I'd assume, that our planet.pbf-file has not been updated in this period. This can happen, although we're aiming to have all changes incorporated in 14 days.
The file should be updated within a short time, and the expected route should be usable.
Best regards
Hi @jschnell , I got it and thank you for your reply. Please let me know if data is updated for this route.
Hey,
just to give a quick update on the situation:
There has been an error with the hiking profile, and it is still using the data from over a month ago.
We're currently updating it, so it should be ready tomorrow or the day after, but no guarantees.
Note that the walking-profile does find the correct route

Best regards
Hi @jschnell, I'm truly appreciate your updates.